Prevent Security Breaches at the Earliest Using EventLog Analyzer's Correlation Engine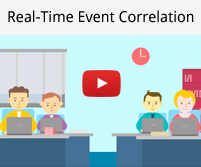 Real-time event correlation is all about proactively dealing with threats. Data breaches are on ​the rise and hackers use highly targeted attacks to intrude upon enterprise networks and steal sensitive data. Protecting your network data from attackers involves detecting security threats at its early stage. Security investigators need to determine whether a suspicious event or chain of security events that had happened on the network is a potential security threat or not.
Manually investigating events across the network from various log sources and correlating them to formulate an attack pattern will be a herculean task for the security investigators.
To effortlessly identify the possible intrusions in the network, you need to have an automated effective correlation engine that gives a complete scope of any security incident by building relationships between events happening across your network infrastructure.
Detecting Threats with EventLog Analyzer Correlation Engine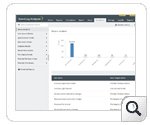 ​EventLog Analyzer's correlation engine effectively connects security incidents from a wide array of log sources in your network. It comes bundled with over 70 out-of-the-box correlation rules that cover user access, user logins, file integrity, user creation, group policies, unintended software installations and more. With this out-of-the-box correlation rules IT security professionals can detect and identify anomalies as and when they happen without any hassles of manual intervention.
The IT security professionals are notified in real time during any threshold violations or network anomalies by an SMS or email.
Creating Attack Patterns with the Correlation Rule Builder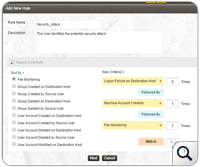 EventLog Analyzer's correlation rule builder can baseline the
'normal'
network behavioral patterns by specifying the levels for each individual correlation rules.It allows you to create attack patterns that are prone to occur at your ​network infrastructure with its simple easy to use interface. All you have do is drag and drop the predefined rules to formulate attack patterns.
Once the rule is formulated, the correlation engine analyzes & correlates the logs collected across your network based on the set of defined rules, looks for a significant symptom that can lead to a potential attack and alerts you in real-time via email or SMS and hence you can proactively react to the breach.
What's so Special with EventLog Analyzer's correlation engine?
The correlation engine,
Increases efficiency by automating the process of correlating millions of log data collected every day
Helps you to create as many alert patterns as possible that are relevant to your environment, with a simple drag and drop from the predefined rules thus identifying the security threat at the right time.
Is flexible. Allows you to specify the threshold limits for individual rules in an attack pattern thus encompassing the slow long time attack attempts and also weeds out false positives.
Has the capability to run custom remediation scripts to carry out some action to mitigate the threats without manual intervention
A Typical use case scenario
In most of the password attacks and application layer attacks, the hackers try to get into the system with the known user account and then creates a backdoor account which is often a privileged user account that can enable the security data breach.
With EventLog Analyzer's correlation rule builder, you can easily create these kinds attack pattern by selecting and correlating the predefined set of rules.