Active Directory Bulk User Creation
Creating and managing user accounts in Microsoft Active Directory is a challenging task that all IT administrators face in their day-to-day activities. With the native Active Directory tools, PowerShell scripts or manually provisioning each user and configuring the user properties is extremely time consuming, tiresome, and error prone, particularly in a large, complex Windows network. If you wish to user PowerShell, it requires an in-depth knowledge about the Active Directory to accomplish these tasks and scripting.
ADManager Plus is a web-based software that enables you to create multiple user accounts in the Active Directory simultaneously. It also comes with the option to provision users in Google Apps. This capability frees you up from the tedious task of writing scripts to create user accounts in bulk. It allows you to create multiple user provisioning templates that contain the standard user attribute values, which can be used in creating bulk users. You can import the user attributes from a CSV file while creating user accounts, which dramatically reduces your time. ADManager Plus enables you to create and manage users, in bulk, with just mouse clicks. With the automated report generation utility, it is possible to export reports in multiple formats to the specified email addresses which will help you to manage the active directory much more efficiently and proactively.
You can try out all the user creation options using the free download of ADManager Plus' trial version which provides unlimited access to not just user management features but also the complete set of Active Directory management as well as reporting features.
Bulk User Creation Flow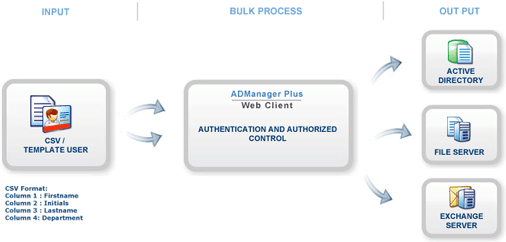 ADManager Plus even allows mass modification of user attributes, including the Exchange, Remote user logon, Terminal Services and Lync Server/LCS/OCS attributes. With ADManager Plus, it is also possible to change the values of user attributes. Common modifications, such as resetting password, changing the display name, creating Exchange mailbox, moving users between OUs, and so on can be done quickly and consistently. You can also modify the attributes of any specific user(s) as per your requirement.
Bulk User Creation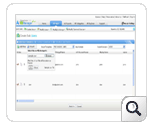 Create users by specifying all the attributes including Exchange Server (2003/2007/2010/2013) attributes and Exchange policies, Terminal Services, Office 365 & Google Apps attributes.
Add users by copying properties of another user.
Import user properties from a CSV file, with the only mandatory property being the User's name (givenName).
Create and use templates with common user attributes.
Create users in an existing container or create a new OU and add users to it.
ADManager Plus is compatible with Microsoft Windows Active Directory 2000/2003/2008 R2/2012, Microsoft Exchange Server 2007/10/2013, Office 365, Google Apps and Lync Server/LCS/OCS. To explore all the features in ADManager Plus, Download the Free 30-day Trial.
Watch a video demonstration of 'Bulk user creation'
Featured links
Other features
Reset password and set password propertied from a single web-based console, without compromising on the security of your AD! Delegate your password-reset powers to the helpdesk technicians too!
Manage your Active Directory Security Groups. Create, Delete and Modify Groups...all in a few clicks. Configure Exchange attributes of AD Groups and effect bulk group changes to your AD security groups.
A catalog of almost every report that you will need from your Active Directory! Comprehensive and Reliable reporting. Schedule reports to run periodically. Manage your AD right from within the reports.
Unload some of your workload without losing your hold. Secure & non-invasive helpdesk delegation and management from ADManager Plus! Delegate powers for technician on specific tasks in specific OUs.
Get rid of the inactive, obsolete and unwanted objects in your Active Directory to make it more secure and efficient...assisted by ADManager Plus's AD Cleanup capabilities.
A complete automation of AD critical tasks such as user provisioning, inactive-user clean up etc. Also lets you sequence and execute follow-up tasks and blends with workflow to offer a brilliant controlled-automation.
Need Features? Tell Us
If you want to see additional features implemented in ADManager Plus, we would love to hear. Click here to continue